Things I find it nearly impossible to do while in a relationship:
1.)    Lose any significant amount of weight. Not a few pounds here or there, but significant weight.

2.)    Well…no, that's really about it. Truly. It is a crazy phenomenon brought on by a number of things, and after talking to many others about this, I've found it isn't singular to me. Not nearly.

3.)    Yeah, no seriously—just that.
Now, there are a number of factors that go into this phenomenon. Because when single, despite certain genetic—oh, we'll call them "gifts," but they will refer to things like curves—I find I tend to lose weight pretty easily by tweaking any number of behaviors. When I'm putting even moderate amounts of effort and/or money into it. Not that I wish to get rid of my curves, mind you, gentle reader. I usually quite like them, and I think they're highly undervalued in this society's media. (Curves in general, not mine in specific. Actually, you know what? Fuck. Mine in specific. YOU WILL APPRECIATE MY CURVES, AND YOU WILL LIKE IT!) But my healthier ideal weight is probably around the one I lied about on my driver's license, so I'd at least like to get to that place.
But when I'm single, I have more money and effort to put into keeping a certain weight.
And aside from having effort and money to put into losing weight when single, I also find that I just lose some weight in general as a singleton, even without the added effort. This is because when I'm bored or anxious/tripping on the paranoia one can only achieve while living alone and realizing that having not left your apartment all Sunday means you haven't actually heard the sound of anyone's voice—not even your own—for over 24 hours, I tend to spend all my free time walking. I do love walking to alleviate unpleasantness. It's so cathartic.
For example, my anxiety and paranoia while single might manifest like so: "Dear god—I haven't had sex in two months. TWO MONTHS! Wow. Like, I don't even really miss it…I just didn't notice. Oh my god, come to think of it, I read once that there's a pheromone you emit when you've been having sex regularly that attracts the opposite sex. Can they smell my sexual inactivity? Is my singleness repelling people??!"  (Said in my apartment alone, talking to my plants.)
And a walk—ooo, a walk just takes all the nasty craziness away and replaces it with sanity and clarity of thought. Like, "Ahhh. Much better now. Frightening paranoia has ended; I'll just suck on these juicy beta endorphins for the next hour and go sweetly to sleep." It just clears the air. A walk is like the Glade air freshener of my fetid psychological miasma. That's poetry. I may stitch that on a pillow.
Only, since being in a relationship, when I'm feeling anxious, there is another sentient being in the apartment at most times who tends to quell the emotional baddies much better than my plants ever did (who still have yet to put a nice arm around me when I'm sad. So, you know what? I quit watering them. Yeah, screw you, you heartless bastards). And when I'm bored while in a relationship, my sig' o' and I just do something or watch something together. I'm not complaining; it's lovely. I just now have no motivation to go walk out of general malaise until I'm too tired to remember what was bugging me. And that seems to rule out just losing weight without really trying.
In in a relationship, there never seems to be enough of anything to accomplish significant weight loss when I am really trying: free time, money, superfluous energy, etc. Even when I feel like I'm putting lots of energy and focus into it, it does not happen. And it's so irritating; I eat sensibly. My portions aren't large; I almost never like fried foods or things in butter; the only meats I usually eat are chicken, turkey, or fish—again, not in butter or fried; I seldom go back for seconds; I don't often fancy dessert; I like vegetables and healthier options generally whenever possible; and I've cut out copious amounts of drinking. Hello, body. I'm torturing you with sensible, healthy eating—you'd think you'd shape up.
But I think I've boiled it down to a fair number of reasons.
1.)
First, age. I was 24 when I got into my current relationship; I am 27 today. Now, I'm not exactly a card-carrying member of the local gomer club (despite a rather misleading name for my blog), but I'm no spring chicken anymore either. Maybe like a summer chicken. And I'm thinking my body has decided to prepare me for the joys of bearing children and carrying them on my hips whether I make the active decision to procreate right now or not. Much like happens with chickens' bodies in the summer! True story…
And I've come to this conclusion because, most specifically, it used to be easier to lose weight in certain areas of my frame than it is now. Ergo, I'm going to go ahead and say age is one of the villains of this piece.
2.)
Secondly, happiness. It is damned difficult to worry about fighting myself with health food and annoyingly long hours of exercise when I'm too happy to notice. Not that I disliked myself when I was single, by any means. I was just more honed in to the task at hand, you see. The battle with my instincts of "tastes good = is good" and "feeling of laziness = well-deserved sleep," if you will. I was a warrior in the body fight. And now I'm all, "Tra la la…whatever. Sugar bomb? Meh. I could really go for an orange pop…" I'm all sleeping in on weekend mornings rather than going out for a walk because the bed is such a nicer place to be with my partner there. Damn this insufferable, infernal contentment! What is it getting me?
3.)
Thirdly, I do not live in the constant fear of never having sex again. Say what you will about this statement, but that panic button for me and many others is a big, shiny, red one. It will make you do things you have absolutely no desire to do (when being totally honest with yourself)—things like going out at all hours of the night to packed bars booming with music so loud that you nightly lose your voice just trying to ask the name of the random sweaty person whose hand has been on your ass for the last half hour rather than just staying home with a hot toddy and a decent, quieter, more satisfying form of entertainment. Or suffering through torturous first date dinners with people you wouldn't want to talk to if they were the only person who spoke English in a 1000-mile radius. Or regular small talk. Or going to comedy clubs for amateur night. Or, I don't know, jogging. Point made.
4.)
Next, I spend most free time I do have (which is precious little, let me tell you, and that is no understatement) doing relationshippy or couply things rather than at the gym. If I do get a night free, it's so much nicer spending it at home with the darling male companion. So that's how I spend most of my free time. And again, "most of my free time" is a small percentage of an already small percentage of my composite time, so have perspective. (I work a full-time job, do freelance work, commute 3 hours a day, 5 days a week, go to meetings and appointments most evenings, and see people constantly.) Also, see "not living in the constant fear of never having sex again." This fear would trump wanting to spend free time at home if it were a certain reality, but it is not.
5.)
And finally, cooking for two. It has always been really easy for me to lose weight when cooking for just myself because I'm willing to eat some remarkably unenjoyable things. When I was single, since I don't care about meals terribly much, I would often just make sure I was hitting certain food groups and stayed below a certain calorie/fat content amount. And then I'd eat what I'd made, regardless of whether any of it went together. It wasn't about the pleasantness of the experience. It was about having fuel, and …doing math, and …eating nearly indigestibly healthy, tasteless things. But now that I cook for two (we have a nice system where I do all the cooking, he does all the dishes), I cook entirely differently.
It's not that he's picky; he's said numerous times he'll eat whatever I cook. And let's just all pause now and appreciate a good'un when we see one. He's a good'un.
But even though he assures me he's not picky, I don't want to inflict bad meals upon him. I prefer to give him a nice, balanced meal (taste-wise as much as health-wise). No, I don't know why. I just do. So I cook things we both want to eat, which immediately ups the starch intake, at least. It also puts more meat where I normally wouldn't put it, since he works on his feet all day, and I feel he should have a good intake of protein. I still cook things without putting them in butter and have other healthy cooking habits thoroughly ingrained. Still.
But furthermore, healthy food is often fresh food, which as you probably know is pretty damned costly. Health food generally does not consist of things that come out of boxes and cans. And therefore, making meals of healthy food for two people is even more expensive than…well, than making healthy food for one. Which is already fucking expensive! So in order to cut costs, we eat more things like pasta. More bread. More rice. These carbs add up, don't ya know.
So, despite my continual work to overcome these obstacles, so far, aside from the small weight losses here or there, my efforts to lose significant weight have been fruitless as of late. Similar stories from many, many of the shacked-up people I've talked to. Damn. And combined with back problems I've had over the last two years that make it difficult for me to do any workout more athletic than walking, I think it might just be one of those things that will continue to plague me for quite awhile.
As will my plants not responding to me.
Save
Or, more affectionately titled,
Shit I do for money.
Harmless Enough
I believe it all started when I answered an ad on Craigslist asking for depressed individuals to participate in a study for $100. Hell, I'd been known to shed the occasional tear at a Hallmark commercial… a tear that then lasted for a few months or so. Humor aside, I'm a perfectly well-adjusted person, but I'm comfortable relating that melancholy and a somewhat nervous disposition (think a Niles Crane-level of neurosis) have been more than occasional companions of mine. And I live with them, but I never realized I could make money off them. Is this wrong somehow, capitalizing off deep and very real troubles? Selling the drama, as it were? Dammit, no. It's getting some of the money that I spend on all that therapy back. Ha.
So, I answered the ad, I went to an office, they had me answer some questions, I looked at a web site advertising antidepressants and told them how effective it was in giving me information about its product, and—badda bing, badda boom, in under an hour I was handed an envelope with my name on it. $100 cash sat winking at me from inside it, and I was escorted out. Brilliant. Thank you, depression (thank you India, thank you terror, thank you disillusionment)! You just bought me a much-needed trip to the hair salon. Now I can have my perm and eat it too.
No, that didn't work.
Anyway, that one was perhaps the easiest of the ads I've answered. And the least humiliating. And I have found that there's rather a lot of totally legitimate ways I will contribute to science and consumerism for the exhilaration and intrigue of it all while enjoying a small monetary token of appreciation for my time and dedication. Or, rather, a lot of shit I will do for money.
Most recently, I participated in another study, this one having to do with anxiety and how it affects the body. This one was less of a casual stroll in the arboretum of money trees and actually more like running the emotional gauntlet for two very long, very taxing sessions. I came out of them looking like a wet, electrocuted, frazzled cat dodging imaginary traffic. But let me back up.
Pre-Traumatic Stress Disorder
The study—compensation $130—was done by a psych department of a university looking for (the standard favorite) depressed individuals. Yes, we are the cherished dolls of the testing world. I think it's that we seem more or less sedentary and willing to shrug when asked to do outrageous things for paltry fees. We use the word "meh" a lot. And I applied for this study because, you know, I cry at the Hallmark commercials.
I went in for the first session, which was supposed to last three hours. I got there 15 minutes early and sat down in the hallway chair in front of a series of rooms. And I could hear two people training in one of these rooms—rooms to which they had had the good sense to leave the door open—discussing parts of what would be occurring at my upcoming second session.
"We'll be administering the electric shocks so that, the higher the pain level, we can measure the level of neurosis in the anxiety patient." Ahhhh, great. And welcome to the beginning of the movie Ghostbusters.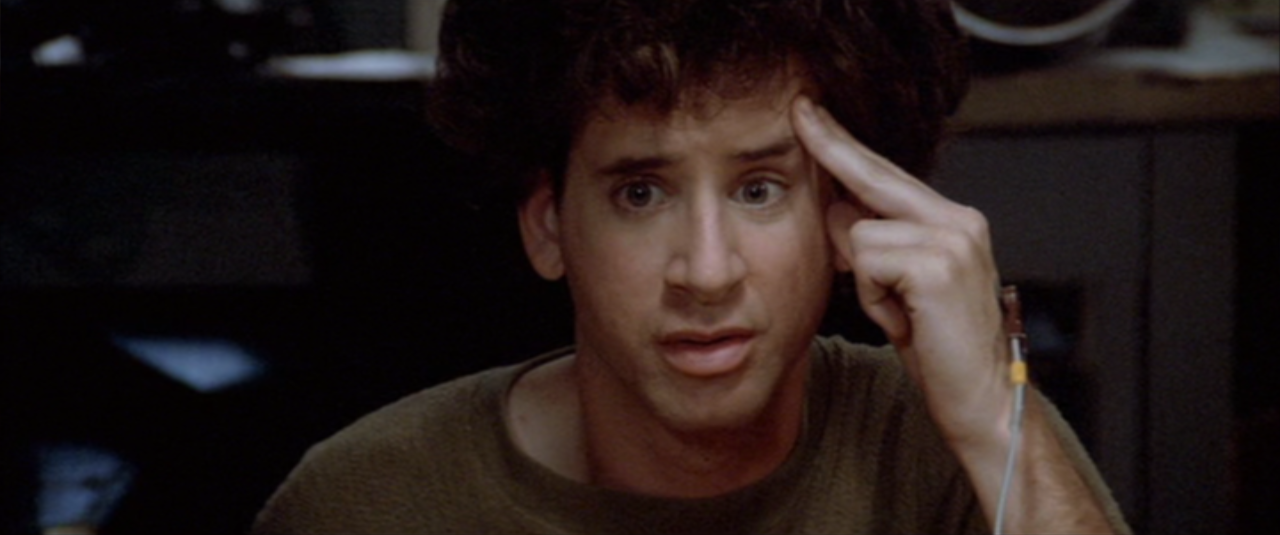 I actually had to raise my eyebrows and laugh at that moment. Because what else to do? Say, could you shout that a little louder in front of the anxiety subject, here, buddy? One hundred thirty dollars. One hundred thirty dollars. One hundred thirty friggin' dollars. Christ.
Session One: How to Turn a Perfectly Normal Person Into a Sniveling Doormat in Just a Few Easy Steps
Finally it's time to start Session One. This can be otherwise heretofore known as The Inquisition. And you know, despite how many bloody times I've watched Monty Python, I still didn't expect this. Huh. Go figure.
It sort of went like this: Psych student #1 comes in and ties me to a rack. Psych student #2 repeatedly punches me in the gut, puts cigarettes out on my nipples, and kicks me roughly in the shins while calling my mother filthy names for three hours.
Well, that's what it felt like. More realistically, both (polite enough) psych students ask me three long, drawn-out hours and hours of deeply—holy crap—deeply invasive questions about what being depressed since 14 has been like. Ohhhhh, lovely, thanks. Just buckets and buckets of sunshine. Like an unending vacation within my soul. So, I relate all my most personal and deeply saddening memories to them. I leave wanting my blanket and about 14 Jack and Cokes. But no Cokes.
Next time, psych students, I'm just buying a mood ring and pointing.
Session Two: How to Go From Upright to Fetal in a Few Short Hours
Two days later, I come back thirsty for more abuse. I have my Xanax in pocket, ready like a nervous spy waiting to crush it under my tongue and have this whole thing over with in case of certain doom. And I've come this far. I'm intrigued. Electric shock, you say? Induced neurosis and anxiety attacks, you say? …$130, you say? Totally legitimate ways I contribute to science and consumerism for the exhilaration and intrigue of it all while enjoying a small monetary token of appreciation for my time and dedication! Or, shit I will do for money.
It is 5 PM; Session Two has now officially begun. A determined guinea pig, I fill out a consent form for two more psych students—the two I had overheard discussing my shock treatment earlier that week in the other room, not the two who had tortured me with the Ghosts of Christmases Past in Session One. Bring it on, bitches.
I slip on a sort of Lycra swimmer's cap-type dealie that contains 64 electrodes on it, each with a little cord coming off it which all connect like a giant electric ponytail off the back of my head. And the psych students sit me in front of a computer where I can view a screen of a brain outline and a pictorial representation of all the electrodes sitting on my head. I am, oh, so pretty. Now for the mess.
With needle-less syringes (thank god, because needles have me seeing little birds faster than a springtime hipster fashion line), these two bastards begin poking gel down into the electrodes (and alllll into my hair and scalp… delicious). And I mean they really jam it on down in there, now with these long, pointy wooden sticks (SCIENCE!). This fucking hurts. Now, to be fair, they told me they were going to do this. Still. Would you fuck off?
Also, they're placing other electrodes covered in gel, which are connected by electric cords, onto the sensitive skin right under my eyes and behind my ears. And damn it, I used to like that place behind my ears. Now it's all disgusting and running a current. I am at this point fully aware that my head is covered in things. Science has vomited on my cranium. And these psych students are all, "La di da, why don't you relax and fill out casual forms during this process, and maybe you want to flip through some Cosmo? Isn't everything lovely and not at all weird as hell in here?" I'm cool, thanks. I'm all caught up on the latest seven methods of making my man crave my fabulous booty. I'll just stare at the tiny, little boxed room about 20 feet away from me and focus on getting my hands to quit shaking.
"Yeah, but I shoot with this hand."
So, now I'm all hooked up and quite sexy looking, oozing gel and with a wattage that would probably allow me to light a mid-sized desk lamp with my mouth. I'm asked to get up and am politely escorted—my cords being ceremonially held behind me by the psych students like they're carrying a wedding dress train—to the tiny, tiny, grey padded room that I had been eyeing. It has a chair in it and a door I'm well aware without even being told will be closing behind me. And this psych student man is talking to me like he expects me to sit down in here. A PADDED ROOM, PEOPLE. I look at this man like he's been smoking my electrode ponytail. Shit I will do for money. Damn it.
I have a seat.
The Happiest Place on Earth
This man I have already come to loathe gets me all situated in my chair, with all the cords coming off my head and face in a comfortable—relative is key, here—place. The walls are a half foot away from either side of my shoulders, and the room is dimly lit with a computer screen in front of me that is turned off. He tells me to look at the X on top of the computer screen for one minute, not to move and to try not to blink too much, and that he'll be back after that. Now it's Fear Factor. He leaves the room and closes the door to silence, and I am left in a padded cell with an electric swimmer's cap and little corded disks stuck to my under-eye muscles, staring at a computer screen that is not on, unable to blink. And I have no idea what's supposed to happen or when it's supposed to start. Where the fuck is the Xanax, because I have found Hell. Or I've stumbled into A Clockwork Orange.
And dear god, the walls are breathing. I think they're breathing. Did this sick bastard actually put me into some sort of living, biological room? Is it eating my feet? Is it going to eat my feet?? Okay. Focus, Meg. Focus. Audrey Hepburn. Audrey Hepburn dancing with a celery bouquet in My Fair Lady.  "All I want is a room somewhere, far away from the cold night air, with one enormous chair, oh wouldn't it be loverly…" It's calming. Okay, this is better now. Kind of. This isn't exactly the room she was singing about, but…it's away from the cold night air. The chair here is…adequately sized…I'm breathing…breathing…celery bouquet…it's okay…okay.
And the man opens the door again. "All right, that was great. Now we're going to go another minute, but this time with your eyes closed, please. And remember not to move. Thanks." Fucking hell. Seriously? You sick sons of bitches. Okay, Audrey. Do your thing. This is way longer than a minute, you Swatch-less assholes. My face is hot, and my pulse is loud in my ears.
Five more reps of this later, and one hell of a mental Broadway sing-song, I have lived—and I swear to god, I swear, that sick bastard psych student looks slightly put out that I've survived. Anywho, they put me through a series of other tests, one involving turning the computer screen on and playing 45 minutes of the Worst. Jackpot. Game. Ever. Oy. Why? Science!
Shock It To Me
And then we get to the most thrilling part of this whole thing. I mean, it is Candyland. Really. This is over 45 minutes of piercingly sharp, highly unpleasant, shockingly (almost truly painful) loud noises at totally random intervals. (Yeah, they'd added giant headphones to all the rest of my heavy cranial accessories, I assume, to test my super neck strength). The noises are to induce neurosis so that I am jumping and wincing, having ticks, shaking, nervous. They're looking to record how my face moves when I'm anxious and terrified. Really, it is awful. To describe it without even a hint of hyperbole, if I had been holding something in my hands, I would have dropped or thrown it every time they queued the noise. It is that jarring. 45 minutes.
And they appear to notice I haven't involuntarily urinated or anything yet, because they then come in and hook my wrist up to two electrodes that induce electric shocks, which are described to me as "highly annoying" but "not painful." This…rides the line of that description, shall we say. And—hey, double trouble—these shocks are being given to me at totally random intervals with those wacky, wonderful randomized noises that are being administered. And sometimes, just for shits, the screen says something like, "When a red square appears on the screen, a shock may occur." So that I can anticipate and dread. Red square. Oh god oh god oh god oh god…phew. *ZZZZTTTT*  AGGGHHHH!!  I develop twitches in this second set of 45 minutes that might endear a war vet. Holy hell.
Finally—finally—the man comes and gets me, takes all that shit off me, and tells me I can wash the gel in my hair out in the sink, but that they are out of towels. Sorry.
Sorry?! How the hell does that happen?! He does have a hair dryer, though. Which, if you have long hair that's absolutely soaking wet, doesn't do much in a short amount of time, does it? But, oh well. Swimmer's cap off, I am happy. It is a false sense of calm. And I still have a whole lotta shakin goin on, by the way, even though I'm no longer being shocked. Twitch. Shake. Shake. Twitch. I am akin to the Taco Bell dog at this moment. But much less possessing of the ability to speak Spanish. Or the desire to poop outside.
Moving on.
To Spit or Not To Spit
I am still sopping wet and being taken into a regular-sized room—relatively speaking—and I am given a tube that I'm told to spit in. And, you know, after the evening I'm having, this doesn't seem even remotely unreasonable. Fine. Gimme your freaking tube. You have a plugged-in toaster? I'll spit in your toaster. I don't care.
I am told to fill it up with my saliva to the line marked on the tube. Only, if you've been made to have a couple hours of anxiety attack, how much saliva you think you've got, there? This actually proved to be my hardest task that day, and one of the most infuriating. I sit there, in this room, attempting to spit into a stupid little tube through insufferable dry mouth while thinking back on the last few hours and wondering how hard I'd been shocked that I didn't remember the psych student in there pouring sand down my mouth. Finally I get enough into the tube that he seems moderately satisfied, and I become convinced that the point of this task is not a genetic sampling but a humiliation sampling. I assume he collects it all in a jar. All the humiliation. Like he's crafting a humiliation necklace to wear and show off to all the other psych students.
Hey, you're welcome for my spit, Creepfest. Don't spend it all in one place. Eh. Now I want some soup and my Xanax. And to stop twitching and shaking. But I just can't seem to stop.
Then the psych guy spends the next half hour to 45 minutes asking me to list all the words I know that start with A, that start with S, that start with R. All the men's names. And other stuff like that. All the fruits (bitch, please. Don't get me started. Shouldn't this one have coincided with "men's names," mmmkay?) And oh my god, I cannot do it. Any of it. While I'm unsuccessfully attempting to complete this truly simple task, the man is actually making noises like he's snickering at me. Now, I believe I know what he's doing. I've read enough psych studies to know about trying to make the subject uncomfortable and see what reaction that has on their ability to carry out a task. But I'll be damned if it doesn't work. My mind is a blank. And I'm still shaking, twitching, and stuttering.
"Men's names? Um…Berl…Bill…Billy…C-Chris…Christomaine…T-T-Tony…Frank…Fle….Flenk? Floshua? None of these are sounding real to me anymore. QUIT SNICKERING!"
Finally, he wants me to look through this book of images of people's faces. There are two "faces" per page, one on top and one on bottom. But the right half of the top face has been paired with the right half of the bottom person's face, and vice-versa on the bottom of the page. Also, one half of each face is smiling, one half is frowning. And they're in black and white. And I'm supposed to say which looks happier—the top or the bottom. Pardon me while I… EEEEEEHAAHAAAA! BLLEEEGHEGHEEHGAAAAAA!!! GLALGELEGLALGEHH! BLAA!  GAAA!
Okay. That's the most terrifying thing I've ever seen. Thanks.
Hindsight Is Not Always
I'm finished after what seems like a full day of surveillance. Clutching my coat and my purse, I spill out onto the street at the end of the night. $130 in pocket, Xanax already quickly melting cozily in belly, positively stammering my street location on the phone to my darling male companion, who is well on his expeditious way to pick me up. My hair is damp and matted, my makeup smudged, and every noise has me ready to dart up a light pole. I am in complete and utter disarray. This will bring us back to the wet, electrocuted, frazzled-cat-dodging-imaginary-traffic look I had mentioned previously.
Finally I see my nice, warm little Hyundai turn the corner, and I keep my back squarely to the whole ordeal left behind me in the lab. As I climb into the passenger seat, harrowed and spent of all my mental, physical, and emotional resources, I suddenly become GLAD plastic wrap; I am in instant cling mode on my boyfriend. His arm is staying fresh for the rest of the night.
"Are you doing okay, baby?" He asks me, and all I can think about is going home.
"Yeah, it's fine. I-I-I'm…Oh m-man, was that a like stress test on s-steroids. Th-that was just…wow. I just don't…I c-could not ever go through that again. That was crazy. I'm j—wow."
"Well, it's over now," he assures me, calmly. "We'll go home and have some dinner, and then we'll curl up on the couch. It's done now."
"Actually," I brightened, "j-just before I left he said he saw on my charts I was c-claustrophobic. So, next week I'll be doing a claustrophobia and MRI s-study. $100. Hell yeah!"
Man. Shit I do for money.
It all starts to come back now. This feeling that's always returned to drape and hang over me for as long as I can remember. Sleep isn't sleep, and awake isn't awake, and I can't figure I do much of either, but something in between. Home isn't my own, not really. Except oddly the bathroom rug, where every step away from it is another step into a foreign, disorienting country with signs I can't read, madness of traffic, and a mess of faces I don't recognize. And love is—for as long as this lasts—nothing more than a warm spot to huddle and hide as frostbitten wind runs through; but it only does me modest good, and only when I'm crouching on it.
It is the unmistakable feeling of having gauze wrapped around my head, binding down my whiskers so that I'm clumsily grasping for my center of balance and numbly bumping into things I can, fuzzily, already see. I can close my eyes, and it all washes away like the tide. I open them again, and it's all splashing back into me, rising up closer to the top of my head, and swaying me in its wake like a limp bag of interconnected lifeless pieces.
I always wonder how long this is going to stay. And it never stays forever, but it always comes back. Questions, questions I only half-care about. Is this winter? Is this sickness? Is this personal? Is this normal? Is this going to be the one that lasts? Is this going to be me, then?