Or, more affectionately titled,
Shit I do for money.
Harmless Enough
I believe it all started when I answered an ad on Craigslist asking for depressed individuals to participate in a study for $100. Hell, I'd been known to shed the occasional tear at a Hallmark commercial… a tear that then lasted for a few months or so. Humor aside, I'm a perfectly well-adjusted person, but I'm comfortable relating that melancholy and a somewhat nervous disposition (think a Niles Crane-level of neurosis) have been more than occasional companions of mine. And I live with them, but I never realized I could make money off them. Is this wrong somehow, capitalizing off deep and very real troubles? Selling the drama, as it were? Dammit, no. It's getting some of the money that I spend on all that therapy back. Ha.
So, I answered the ad, I went to an office, they had me answer some questions, I looked at a web site advertising antidepressants and told them how effective it was in giving me information about its product, and—badda bing, badda boom, in under an hour I was handed an envelope with my name on it. $100 cash sat winking at me from inside it, and I was escorted out. Brilliant. Thank you, depression (thank you India, thank you terror, thank you disillusionment)! You just bought me a much-needed trip to the hair salon. Now I can have my perm and eat it too.
No, that didn't work.
Anyway, that one was perhaps the easiest of the ads I've answered. And the least humiliating. And I have found that there's rather a lot of totally legitimate ways I will contribute to science and consumerism for the exhilaration and intrigue of it all while enjoying a small monetary token of appreciation for my time and dedication. Or, rather, a lot of shit I will do for money.
Most recently, I participated in another study, this one having to do with anxiety and how it affects the body. This one was less of a casual stroll in the arboretum of money trees and actually more like running the emotional gauntlet for two very long, very taxing sessions. I came out of them looking like a wet, electrocuted, frazzled cat dodging imaginary traffic. But let me back up.
Pre-Traumatic Stress Disorder
The study—compensation $130—was done by a psych department of a university looking for (the standard favorite) depressed individuals. Yes, we are the cherished dolls of the testing world. I think it's that we seem more or less sedentary and willing to shrug when asked to do outrageous things for paltry fees. We use the word "meh" a lot. And I applied for this study because, you know, I cry at the Hallmark commercials.
I went in for the first session, which was supposed to last three hours. I got there 15 minutes early and sat down in the hallway chair in front of a series of rooms. And I could hear two people training in one of these rooms—rooms to which they had had the good sense to leave the door open—discussing parts of what would be occurring at my upcoming second session.
"We'll be administering the electric shocks so that, the higher the pain level, we can measure the level of neurosis in the anxiety patient." Ahhhh, great. And welcome to the beginning of the movie Ghostbusters.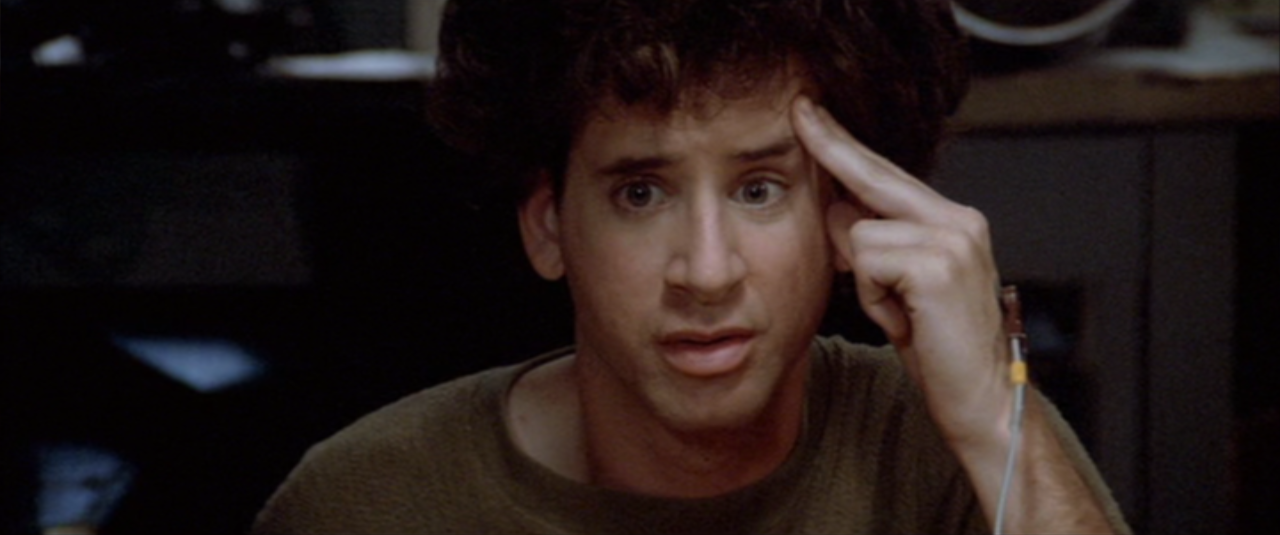 I actually had to raise my eyebrows and laugh at that moment. Because what else to do? Say, could you shout that a little louder in front of the anxiety subject, here, buddy? One hundred thirty dollars. One hundred thirty dollars. One hundred thirty friggin' dollars. Christ.
Session One: How to Turn a Perfectly Normal Person Into a Sniveling Doormat in Just a Few Easy Steps
Finally it's time to start Session One. This can be otherwise heretofore known as The Inquisition. And you know, despite how many bloody times I've watched Monty Python, I still didn't expect this. Huh. Go figure.
It sort of went like this: Psych student #1 comes in and ties me to a rack. Psych student #2 repeatedly punches me in the gut, puts cigarettes out on my nipples, and kicks me roughly in the shins while calling my mother filthy names for three hours.
Well, that's what it felt like. More realistically, both (polite enough) psych students ask me three long, drawn-out hours and hours of deeply—holy crap—deeply invasive questions about what being depressed since 14 has been like. Ohhhhh, lovely, thanks. Just buckets and buckets of sunshine. Like an unending vacation within my soul. So, I relate all my most personal and deeply saddening memories to them. I leave wanting my blanket and about 14 Jack and Cokes. But no Cokes.
Next time, psych students, I'm just buying a mood ring and pointing.
Session Two: How to Go From Upright to Fetal in a Few Short Hours
Two days later, I come back thirsty for more abuse. I have my Xanax in pocket, ready like a nervous spy waiting to crush it under my tongue and have this whole thing over with in case of certain doom. And I've come this far. I'm intrigued. Electric shock, you say? Induced neurosis and anxiety attacks, you say? …$130, you say? Totally legitimate ways I contribute to science and consumerism for the exhilaration and intrigue of it all while enjoying a small monetary token of appreciation for my time and dedication! Or, shit I will do for money.
It is 5 PM; Session Two has now officially begun. A determined guinea pig, I fill out a consent form for two more psych students—the two I had overheard discussing my shock treatment earlier that week in the other room, not the two who had tortured me with the Ghosts of Christmases Past in Session One. Bring it on, bitches.
I slip on a sort of Lycra swimmer's cap-type dealie that contains 64 electrodes on it, each with a little cord coming off it which all connect like a giant electric ponytail off the back of my head. And the psych students sit me in front of a computer where I can view a screen of a brain outline and a pictorial representation of all the electrodes sitting on my head. I am, oh, so pretty. Now for the mess.
With needle-less syringes (thank god, because needles have me seeing little birds faster than a springtime hipster fashion line), these two bastards begin poking gel down into the electrodes (and alllll into my hair and scalp… delicious). And I mean they really jam it on down in there, now with these long, pointy wooden sticks (SCIENCE!). This fucking hurts. Now, to be fair, they told me they were going to do this. Still. Would you fuck off?
Also, they're placing other electrodes covered in gel, which are connected by electric cords, onto the sensitive skin right under my eyes and behind my ears. And damn it, I used to like that place behind my ears. Now it's all disgusting and running a current. I am at this point fully aware that my head is covered in things. Science has vomited on my cranium. And these psych students are all, "La di da, why don't you relax and fill out casual forms during this process, and maybe you want to flip through some Cosmo? Isn't everything lovely and not at all weird as hell in here?" I'm cool, thanks. I'm all caught up on the latest seven methods of making my man crave my fabulous booty. I'll just stare at the tiny, little boxed room about 20 feet away from me and focus on getting my hands to quit shaking.
"Yeah, but I shoot with this hand."
So, now I'm all hooked up and quite sexy looking, oozing gel and with a wattage that would probably allow me to light a mid-sized desk lamp with my mouth. I'm asked to get up and am politely escorted—my cords being ceremonially held behind me by the psych students like they're carrying a wedding dress train—to the tiny, tiny, grey padded room that I had been eyeing. It has a chair in it and a door I'm well aware without even being told will be closing behind me. And this psych student man is talking to me like he expects me to sit down in here. A PADDED ROOM, PEOPLE. I look at this man like he's been smoking my electrode ponytail. Shit I will do for money. Damn it.
I have a seat.
The Happiest Place on Earth
This man I have already come to loathe gets me all situated in my chair, with all the cords coming off my head and face in a comfortable—relative is key, here—place. The walls are a half foot away from either side of my shoulders, and the room is dimly lit with a computer screen in front of me that is turned off. He tells me to look at the X on top of the computer screen for one minute, not to move and to try not to blink too much, and that he'll be back after that. Now it's Fear Factor. He leaves the room and closes the door to silence, and I am left in a padded cell with an electric swimmer's cap and little corded disks stuck to my under-eye muscles, staring at a computer screen that is not on, unable to blink. And I have no idea what's supposed to happen or when it's supposed to start. Where the fuck is the Xanax, because I have found Hell. Or I've stumbled into A Clockwork Orange.
And dear god, the walls are breathing. I think they're breathing. Did this sick bastard actually put me into some sort of living, biological room? Is it eating my feet? Is it going to eat my feet?? Okay. Focus, Meg. Focus. Audrey Hepburn. Audrey Hepburn dancing with a celery bouquet in My Fair Lady.  "All I want is a room somewhere, far away from the cold night air, with one enormous chair, oh wouldn't it be loverly…" It's calming. Okay, this is better now. Kind of. This isn't exactly the room she was singing about, but…it's away from the cold night air. The chair here is…adequately sized…I'm breathing…breathing…celery bouquet…it's okay…okay.
And the man opens the door again. "All right, that was great. Now we're going to go another minute, but this time with your eyes closed, please. And remember not to move. Thanks." Fucking hell. Seriously? You sick sons of bitches. Okay, Audrey. Do your thing. This is way longer than a minute, you Swatch-less assholes. My face is hot, and my pulse is loud in my ears.
Five more reps of this later, and one hell of a mental Broadway sing-song, I have lived—and I swear to god, I swear, that sick bastard psych student looks slightly put out that I've survived. Anywho, they put me through a series of other tests, one involving turning the computer screen on and playing 45 minutes of the Worst. Jackpot. Game. Ever. Oy. Why? Science!
Shock It To Me
And then we get to the most thrilling part of this whole thing. I mean, it is Candyland. Really. This is over 45 minutes of piercingly sharp, highly unpleasant, shockingly (almost truly painful) loud noises at totally random intervals. (Yeah, they'd added giant headphones to all the rest of my heavy cranial accessories, I assume, to test my super neck strength). The noises are to induce neurosis so that I am jumping and wincing, having ticks, shaking, nervous. They're looking to record how my face moves when I'm anxious and terrified. Really, it is awful. To describe it without even a hint of hyperbole, if I had been holding something in my hands, I would have dropped or thrown it every time they queued the noise. It is that jarring. 45 minutes.
And they appear to notice I haven't involuntarily urinated or anything yet, because they then come in and hook my wrist up to two electrodes that induce electric shocks, which are described to me as "highly annoying" but "not painful." This…rides the line of that description, shall we say. And—hey, double trouble—these shocks are being given to me at totally random intervals with those wacky, wonderful randomized noises that are being administered. And sometimes, just for shits, the screen says something like, "When a red square appears on the screen, a shock may occur." So that I can anticipate and dread. Red square. Oh god oh god oh god oh god…phew. *ZZZZTTTT*  AGGGHHHH!!  I develop twitches in this second set of 45 minutes that might endear a war vet. Holy hell.
Finally—finally—the man comes and gets me, takes all that shit off me, and tells me I can wash the gel in my hair out in the sink, but that they are out of towels. Sorry.
Sorry?! How the hell does that happen?! He does have a hair dryer, though. Which, if you have long hair that's absolutely soaking wet, doesn't do much in a short amount of time, does it? But, oh well. Swimmer's cap off, I am happy. It is a false sense of calm. And I still have a whole lotta shakin goin on, by the way, even though I'm no longer being shocked. Twitch. Shake. Shake. Twitch. I am akin to the Taco Bell dog at this moment. But much less possessing of the ability to speak Spanish. Or the desire to poop outside.
Moving on.
To Spit or Not To Spit
I am still sopping wet and being taken into a regular-sized room—relatively speaking—and I am given a tube that I'm told to spit in. And, you know, after the evening I'm having, this doesn't seem even remotely unreasonable. Fine. Gimme your freaking tube. You have a plugged-in toaster? I'll spit in your toaster. I don't care.
I am told to fill it up with my saliva to the line marked on the tube. Only, if you've been made to have a couple hours of anxiety attack, how much saliva you think you've got, there? This actually proved to be my hardest task that day, and one of the most infuriating. I sit there, in this room, attempting to spit into a stupid little tube through insufferable dry mouth while thinking back on the last few hours and wondering how hard I'd been shocked that I didn't remember the psych student in there pouring sand down my mouth. Finally I get enough into the tube that he seems moderately satisfied, and I become convinced that the point of this task is not a genetic sampling but a humiliation sampling. I assume he collects it all in a jar. All the humiliation. Like he's crafting a humiliation necklace to wear and show off to all the other psych students.
Hey, you're welcome for my spit, Creepfest. Don't spend it all in one place. Eh. Now I want some soup and my Xanax. And to stop twitching and shaking. But I just can't seem to stop.
Then the psych guy spends the next half hour to 45 minutes asking me to list all the words I know that start with A, that start with S, that start with R. All the men's names. And other stuff like that. All the fruits (bitch, please. Don't get me started. Shouldn't this one have coincided with "men's names," mmmkay?) And oh my god, I cannot do it. Any of it. While I'm unsuccessfully attempting to complete this truly simple task, the man is actually making noises like he's snickering at me. Now, I believe I know what he's doing. I've read enough psych studies to know about trying to make the subject uncomfortable and see what reaction that has on their ability to carry out a task. But I'll be damned if it doesn't work. My mind is a blank. And I'm still shaking, twitching, and stuttering.
"Men's names? Um…Berl…Bill…Billy…C-Chris…Christomaine…T-T-Tony…Frank…Fle….Flenk? Floshua? None of these are sounding real to me anymore. QUIT SNICKERING!"
Finally, he wants me to look through this book of images of people's faces. There are two "faces" per page, one on top and one on bottom. But the right half of the top face has been paired with the right half of the bottom person's face, and vice-versa on the bottom of the page. Also, one half of each face is smiling, one half is frowning. And they're in black and white. And I'm supposed to say which looks happier—the top or the bottom. Pardon me while I… EEEEEEHAAHAAAA! BLLEEEGHEGHEEHGAAAAAA!!! GLALGELEGLALGEHH! BLAA!  GAAA!
Okay. That's the most terrifying thing I've ever seen. Thanks.
Hindsight Is Not Always
I'm finished after what seems like a full day of surveillance. Clutching my coat and my purse, I spill out onto the street at the end of the night. $130 in pocket, Xanax already quickly melting cozily in belly, positively stammering my street location on the phone to my darling male companion, who is well on his expeditious way to pick me up. My hair is damp and matted, my makeup smudged, and every noise has me ready to dart up a light pole. I am in complete and utter disarray. This will bring us back to the wet, electrocuted, frazzled-cat-dodging-imaginary-traffic look I had mentioned previously.
Finally I see my nice, warm little Hyundai turn the corner, and I keep my back squarely to the whole ordeal left behind me in the lab. As I climb into the passenger seat, harrowed and spent of all my mental, physical, and emotional resources, I suddenly become GLAD plastic wrap; I am in instant cling mode on my boyfriend. His arm is staying fresh for the rest of the night.
"Are you doing okay, baby?" He asks me, and all I can think about is going home.
"Yeah, it's fine. I-I-I'm…Oh m-man, was that a like stress test on s-steroids. Th-that was just…wow. I just don't…I c-could not ever go through that again. That was crazy. I'm j—wow."
"Well, it's over now," he assures me, calmly. "We'll go home and have some dinner, and then we'll curl up on the couch. It's done now."
"Actually," I brightened, "j-just before I left he said he saw on my charts I was c-claustrophobic. So, next week I'll be doing a claustrophobia and MRI s-study. $100. Hell yeah!"
Man. Shit I do for money.
(Note: this is not an actual photo of my former basement)
I am not crazy, damn it. At least, not with regards to my sensitivity to supernatural beings. I will admit to a heightened sense of paranoia and a major case of stopped-tracks ear-twitching that I experience in the event of creepy noises that come from strange places, things that fall over with seemingly no reason or visible motivation, or spontaneous smells and sudden changes in temperature. I'm well-aware that these are things that just happen sometimes, and still when I go to investigate what's caused them, I don't rule out supernatural occurrences from my list of culprits. More often than not, this proves to be overly suspicious on my part of the situation at hand; drafts, for instance, always get the better of my imagination.
Nonetheless, I know the difference between freaking myself out over a totally normal thing and the feeling of an actual presence, and I do feel presences from time to time. Sometimes where I live.
When I lived in my studio apartment over at 432 W. Surf St. from 2008-2009, I absolutely hated going down into the basement to do my laundry. This is one of those very old buildings that had formerly been a hotel in Lake View back in the early 1900s, and so the rooms were set up like old hotel rooms—a wall light mounted on either side of where a bed clearly had been, French doors, a tiny kitchenette with a little eat-in section. It was positively adorable. (See image below for what the kitchenette looks like, taken off the leasing site.)
It was also very poorly kept up. Every time a tenant would leave, the property managers would plaster over anything that needed it—I could barely put nails in the walls because the wall would crumble around them, and there is actually a place in my kitchen where I could push my finger through the wall if I applied enough pressure. This should not happen on a normal wall, in case you've never had walls and are wondering. This is the opposite of a wall's purpose.
Rather than keeping the wood runners and wood on the French doors looking nice, they had painted them over white (even the glass on the French doors). Nothing worked well. My ceiling and bathroom wall was growing mass amounts of mold until I complained and they came and painted over it with more white. Yeah, shitty management company.
Anyhow, the basement was totally removed from everything else. When you came in and went through what once was the lobby, you could either go up the shitty falling-apart staircase to the several apartment units or into the doorway to the left that led to a barely fluorescent-lit hallway for the basement. If you are smart, you avoid the basement area every time. It smacked of the basement in Amityville Horror. There was certainly a wild-eyed stepdad going crazy down there around some corner, waiting to take an axe to his beloved. Certainly.
Also, if mass amounts of mutant, standing-straight-up-and-hissing cockroaches weren't enough to deter you from taking your laundry through this nightmarish stretch of hall (I could occasionally hear the faint sounds of Splinter training them to be ninjas),  then the eerie remoteness would have been enough. Removed as it is, there is also a multitude of doors leading to seemingly nowhere, doors without handles, open wires hanging from the ceiling, and one doorway that led into complete and utter blackness that seems to have a wall directly inside that possibly was just torn apart—wall guts lay strewn along the floor. You walk down the desolate hall, increasingly aware you're being led out of anywhere public, and end up at a floor-to-ceiling door with a long, wide peep slot at eye-level cut out of it. No glass in it, just a hole shaped like a large Pyrex tube on its side cut into the door. Inside that door is a really weird laundry room.
Note, I only ever did laundry in here about 4 times while living there. Otherwise, I would take my laundry somewhere else and do it for much more money. That is how much it meant to me not to spend unnecessary amounts of time here. The room itself was strange enough—really old laminate paneling formed a wall to the left where a wall clearly had not been originally, and a doorway cut into that artificial wall that had been paneled over with the same laminate. The door frame was still there, but a wall was made where the door should open. What's back there? Um, aside from a giant cockroach resort, spa, and brothel? I'm not sure. But it felt unpleasant to be back by that wall for some reason, I can tell you that.
The first time I went to do my laundry down there, I was minding my own business, loading things into the wash machine, when suddenly I stopped what I was doing. Note—generally, I am not afraid of ghosts. There have been times I've felt the presence of something, and as long as it doesn't feel hostile, I often will just say hello and go about my business. So, let me just preface this by saying I wasn't swept over by sudden fear because the basement was a little creepy. No, I was hit by a different feeling than fear. I glanced back at the door peep hole, suddenly, very much expecting a set of eyes to be looking directly at me from the other side. I was just sure of it. Nothing. So, I continued to load things into the washer.
But then it swept fully over me—my stomach was suddenly sick, like I had eaten something bad, and I felt very disturbed. I wasn't sure why. Just very agitated, horrible, like something was very wrong, and I knew very much that I needed to leave. And I left. I waited for my roommate Eddie to get back home before I went down to pick up my stuff, because I was not feeling okay being there alone. That was the first time.
Eddie said he felt nothing down there, by the way; I was just being crazy. Okay. Fine.
I went down to do laundry a few more times after that, even once with another tenant (that time, we were standing there talking, and the entire front panel on the wash machine fell completely off in front of us. The wash machine had not been on, and we had not been touching it). And all was not well in the state of Denmark. Each time, I usually felt fine at first, and after a few minutes, the same sick feeling would come over me, and I'd need to leave. After awhile, the only time I went down there was to take guests to be like, "See? Huh? Right?" And they'd agree. One friend of mine didn't even want to walk past the door into the room. He'd had enough, and he wanted to not be there anymore. I certainly didn't argue.
But the rest of the time in that building was fine. My particular apartment unit never felt threatening at all, not even when I was home alone or had watched a scary movie. It was just that basement. I moved out after my lease was up, and since then I've only brought the creepiness of the basement up a few times. I fully assumed that something bad had happened in that laundry room back when it was a hotel, maybe behind that angry laminate wall, and that the remnants of the act still linger. But meh, not like I'll ever know.
Then, last week a friend of mine was doing some research and came across this information: the building directly next door to my former apartment and another apartment, 2800 N. Pine Grove (less than a block away), were "among the homes occupied at various times by the founder and leader of the North Side Mob, ex-singing waiter and floral artist, Dion O'Banion, in the early 1920s. 2800 N. Pine Grove stands opposite the Commonwealth Hotel, where, a few years later, entertainer Joe Lewis was brutally attacked after he switched venues from a Capone-controlled bar (where the Panera now is on Diversey by my former apartment) to a North Side Mob saloon." Ooo. That's scary. Okay.
So, I'm thinking if this was going on in the building next door, very possibly someone had done some very bad things around the area. Perhaps someone was brutalized in the building next door, or even in my own building, or had hidden something there or something. Maybe, right? Maybe.
I ended up having a terrifying dream a couple of days after having found this information, wherein I had printed out my friend's mob email and walked into the lobby of my former 432 W. Surf residence late at night. The place was a tomb—I mean, no one was stirring there (but then, no one really ever did. I often wondered if there were more than a couple other tenants even in the building, since it was a big multi-occupancy building, and I only ever saw like 3 other people). I had been about to walk up the steps to where my old unit was, but on instinct, I turned on my heel and walked into the hallway to the basement. I got inside the creepy hall of certain doom, and there was just this voice—either in my head or whispered at me, that said very clearly "GET. OUT." I responded, "Okay, I'm leaving," and turned around to go, only my ponytail was grabbed and tugged hard, and I couldn't move. So there I was doing the Scooby Doo, running but not getting anywhere, until I noticed my hair had been caught (and hung) on the door hinge. I unattached it and started running toward the lobby door (which was being held open for me by an invisible force), still feeling like my hair was being tugged the whole way. I got to the threshold of the door, when my hair got pulled hard again, and it hurt. It was stuck on this outer door hinge now, too, inexplicably, so I freed it and went running out and down pitch-black Surf Street. Scary shit.
I told this dream to my friend, you know, to blame him for my interrupted sleep that night. A few days later, he sends me this:
"More nightmares—this one was your building:

SON OF MA BARKER ARRESTED – Arthur "Doc" Barker, son of gang leader, "Ma" Barker, was arrested here in his apartment at 432 Surf on January 8, 1935.

The real "Doc" Barker was a notorious criminal who committed various crimes throughout the 1920s and '30s, from bank robberies to kidnapping and murder. His mother, "Ma" Barker, made headlines as the leader of the crime gang made up of Doc, his brothers (Herman, Lloyd and Fred) and Alvin "Creepy" Karpis (so called, because of his sinister grin).

Doc was arrested in Chicago on January 8, 1935 and was sent to Alcatraz prison in 1936. A map found in Doc's apartment led to the discovery of Ma Barker's hideout where a shoot-out with the FBI left her and Fred Barker dead.

On January 13, 1939, Doc Barker and two other Alcatraz inmates attempted escape. None made it off the island however, and Doc was killed by a shot to the head during the melee."
I just want to pause to say how much I love the word "melee." Anyway, continue.
"In January 1935, agents of the U.S. Justice Department's Division of Investigation–soon to be renamed the FBI–were closing in on the notorious Barker-Karpis Gang, nearly a year after their successful $200,000 kidnapping of St. Paul banker Edward Bremer. On the night of January 8, the G-men raided two apartments on Chicago's North Side. At 3920 North Pine Grove, they arrested Byron "Monty" Bolton and two women. Another gang member, Russell "Slim Gray" Gibson, elected to shoot it out instead. Donning a bulletproof vest and arming himself with a Browning Automatic Rifle, Gibson ducked out onto a fire escape and was brought down by a .351 rifle slug which penetrated the front of his vest. He died soon afterward in a Chicago hospital. That same night other agents, led by Melvin Purvis, arrested Arthur "Doc" Barker and his girlfriend Mildred Kuhlman outside their apartment at 432 Surf Street. "Where's your gun?" asked Special Agent Walter Walsh. "Home," replied Doc Barker. "Ain't that a helluva place for it?"

In the Pine Grove apartment, agents recovered a small arsenal, including a .32 Colt automatic, a .38 revolver, two B.A.R.'s, a 20 gauge Ithaca Auto Burglar gun, and a .351 Winchester rifle fitted with a Thompson foregrip and Cutts Compensator, along with a large quantity of ammunition.  A search of the Surf Street apartment revealed a Thompson submachine gun. The serial number was filed off but the gun later proved to be one taken from wounded police officer John Yeaman during the August 1933 holdup of Stockyards National Bank messengers outside the South St. Paul Post Office. Officer Leo Pavlak was killed in the same robbery.

Among "Doc" Barker's effects agents discovered a Florida map, with the Ocala region circled. Barker refused to say anything about this but Byron Bolton was more cooperative. He revealed that Fred Barker and Arrie "Ma" Barker were living beside a Florida lake and that Fred enjoyed hunting a large alligator known locally as "Old Joe"; according to Bolton, Fred circled the lake in a boat, towing a pig as bait and hoping to shoot "Old Joe" with his Tommygun."
WOW. Okay, this is awesome! That is some confirmation for me. That feeling I had had? I guarantee you bad things went on in this laundry room or behind those handleless doors. I'm now fairly certain I lived above a MURDER BASEMENT. Is that a term? It is now. But seriously, I could feel the undeniable ugliness and the negative energy, the ghosts of anguish past, stirring around in this room and that hallway.
I am way creeped out. And now I want to go back there with this knowledge, only I can't. Apparently I have really easily grabbable hair.
Save